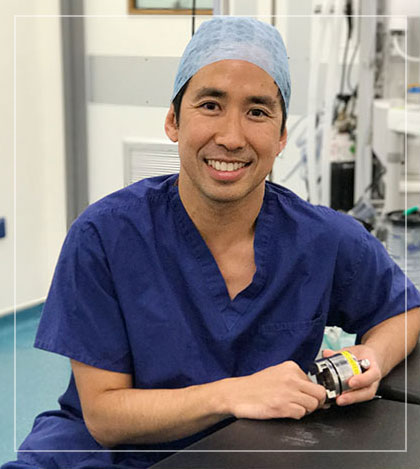 Mr. Winston Kim
Mbchb, Msc, Frcsglasg (Tr & Orth)
Specialist Knee Surgeon
Introducing Mr. Winston Kim, FRCS (Orth), a distinguished Consultant Orthopaedic Surgeon who is a specialist in Hip and Knee Surgery. With a career spanning transformative advancements in joint replacement surgery, Mr. Kim is renowned for his expertise in robot-assisted procedures and his unwavering commitment to elevating orthopaedic care.
Mr. Winston Kim, FRCS (Orth) Consultant Orthopaedic Hip and Knee Surgeon in full time private practice.
Embark on a transformative journey towards renewed mobility and enhanced quality of life with Mr. Winston Kim, a leading orthopaedic specialist renowned for his expertise in hip and knee surgery. With a focus on cutting-edge advancements and personalised patient care, Mr. Kim has established himself as a pioneer in the field of robot-assisted hip and knee surgery, offering tailored solutions to address a wide spectrum of hip and knee arthritic conditions.
Unparalleled Expertise and Experience
Mr. Kim has consistently pushed the boundaries of orthopaedic surgery, demonstrating his exceptional proficiency through a record-breaking series of robot-assisted hip and knee replacements. Having performed more than 1000 robot assisted hip and knee surgery, he holds the distinction of performing one of the largest number of such procedures in the United Kingdom (largest number performed in the United Kingdom in 2022, with over 300 cases, Stryker UK data). His proficiency extends beyond robotic interventions, encompassing more than 2,000 conventional hip and knee replacements performed, cementing his position as a seasoned expert in the field.
Visionary Leadership in Robotic-Assisted Surgery
Mr. Kim introduced robotic-assisted lower limb surgery to the North West region. He was the first to successfully perform both partial and total knee replacements using cutting-edge robotic technology. His accomplishments also include pioneering the triad of partial, total knee, and total hip replacements in the North West of England, solidifying his status as a trailblazer in robotic surgery.
Unwavering Dedication to Patient Well-Being
Mr. Kim's patient-centered approach revolves around clear communication, individualised decision-making, and a focus on optimal outcomes. His practice places a strong emphasis on collaboration with multi-disciplinary teams, drawing from patient feedback and comprehensive outcome analyses. With a commitment to achieving the best possible results for each patient, Mr. Kim ensures that every step of the surgical journey is guided by a holistic understanding of patient needs.
Educational Excellence and Accolades
Mr. Kim's journey to excellence began with his medical education at the University of Aberdeen (graduating in 1996) culminating in the prestigious FRCS (Orth) qualification in 2004. His dedication to knowledge led him to pursue advanced training across renowned institutions, including a one-year sub-specialist program in Vancouver, Canada. His passion for research has earned him numerous awards, including the Peter Mallimson Prize and the Harvey Green Surgical Teacher Prize.
Professional Memberships and Recognition
Mr. Kim is a member of esteemed professional organizations such as the British Hip Society (BHS) and the British Association for Surgery of the Knee (BASK). His contributions to the field have garnered recognition from peers and patients alike, solidifying his status as a trusted and respected authority in orthopaedic surgery.
Embark on your journey to improved mobility and enhanced quality of life under the expert care of Mr. Winston Kim. With an unwavering commitment to innovation, patient well-being, and transformative outcomes, he stands ready to guide you through a seamless path towards better health.