News & Media
UK private hospitals stretch ahead of NHS for hip and knee surgery
As part of a new series on global health, The National explores how patients are increasingly compelled to make substantial one-off payments to treat joint pain
Private hospitals in the UK have been filling the gaps caused by NHS waiting times, taking over as the lead provider for hip and knee replacements.
Click here for more information
MAKO Robot-arm Assisted Knee replacements and MAKO robot-arm assisted hip replacements
The following are summaries of research supporting the use of MAKO Robot-arm Assisted Knee replacements (total and partial knee replacements) and MAKO robot-arm assisted hip replacements. Over 1 million MAKO robot-arm assisted hip and knee replacements have been implanted worldwide (Stryker Data, March 2023), with its use increasing exponentially. Some insurers are resisting its use due to increased costs involved, but increasing evidence in the literature supports its use, with improved outcomes in terms of quicker recovery, shorted hospital stay, less pain, improved accuracy and precision of the surgical procedure using implants that are tried and tested, with improved outcomes compared to joint replacements implanted manually using conventional methods.
Click here for more information about Mako Total Knee key clinical studies.
Click here for more information about Mako® Partial Knee arthroplasty: clinical summary.
Robot-arm Assisted (MAKO) total hip, knee and partial knee replacements as seen in the Mirror online AUGUST 2022.
Offering everything from facial treatments to robot-assisted hip replacements, these companies could help improve your daily life and help make you look amazing
In need of a health boost? Now's the perfect time to re-think your beauty regimen, with our round-up of wellness products and services, designed to make you feel great in time for autumn.
Whether you've been meaning to change your body exfoliating routine, find products and treatments that make your skin look fresher, or seek help from a medical specialist, we've found a few ways to help. Think lavender-scented body scrubs, hyaluronic serum capsules, and even next-gen knee and hip replacements to get you ready for leg surgery.
Best of all, they're all just a click away.
Read More
MAKO Robot-arm Assisted Total Hip Replacements, Total Knee Replacements and Partial Knee Replacements by Winston Kim, FRCS (Article in The Daily Mail, 9 July 2022)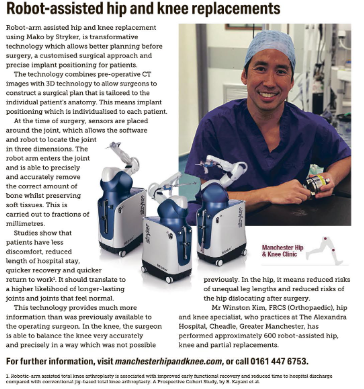 MAKO Robot Assisted Hip, Knee and Partial Knee replacements by Winston Kim, FRCS (Article in The Daily Telegraph, 19 March 2022)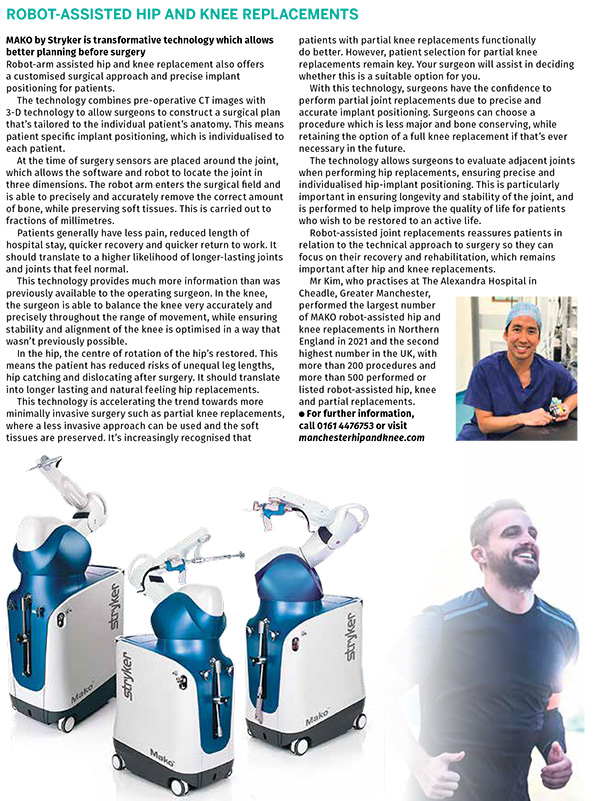 Review by Patient Treated by Mr Kim and Team
Bernard Sumner, founding member of 2 of the greatest Bands ever (New Order and Joy Division), after successful robot assisted minimally invasive knee surgery, sent 2 overflowing boxes of signed CD's, vinyl, memorabilia shared by all the team. Surgery by Mr Winston Kim and staff.
CEO of Professional Football Association treated by Robot-assisted knee replacement
The robotic revolution in knee replacement surgery
A Q&A with leading surgeon: Robotic-assisted knee replacement operations could be a game-changer for patients, improving accuracy and shortening recovery times.
Mr Winston Kim, Consultant Orthopaedic Surgeon, performed the first robotic-assisted knee replacement and partial knee replacement in the north of England, and has the largest series in the NorthWest. His patients include former professional footballer and CEO of the Professional Footballers' Association, Gordon Taylor.
Hand-held 'robot' puts Manchester hospital into euro top ten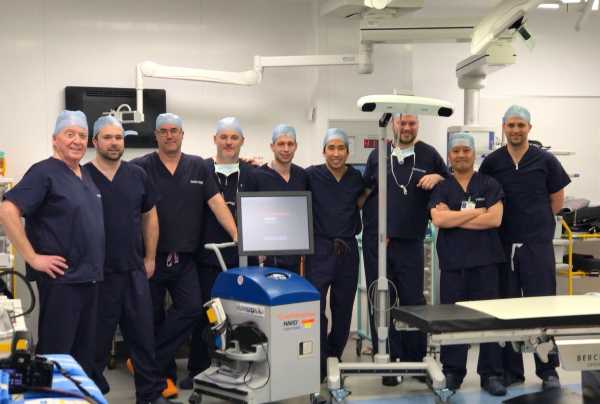 Spire Manchester Hospital has become the first hospital in the North of England – and one of only ten in the whole of Europe – to carry out a total knee replacement operation using the new Navio robot-assisted system.
Consultant Orthopaedic Surgeon, Mr Winston Kim carried out the joint replacement procedure using the hand-held NAVIO 'robot' which is in use at only three private hospitals in the UK.
Designed and developed by internationally renowned technology experts Smith and Nephew, the system allows surgeons to minimise the amount of bone removed from a damaged knee before positioning the new implant in exactly the right place to achieve optimum joint stability.
Littleborough mountain-climber on a high as he is first to have new robot-assisted knee replacement.
A Littleborough mountain-climber is on top of the world after becoming the first person in the North West to have a knee replacement operation carried out by the latest in robotic technology.
Rob Schofield, a fifty-three-year-old training and development manager, said he was happy to be first in line for the treatment following two years of knee pain that was affecting his outdoor lifestyle.
The Navio Robot-Assisted System at Spire Manchester Hospital is one of only three in operation throughout the UK. It takes away the need for a pre-operative CT scan to provide an image of the operation area.
The operation was performed by consultant orthopaedic surgeon Mr Winston Kim who explained: "The hand-held Navio allows a more precise and accurate implant placement, tailored to the patient's anatomy and alignment. This increases the likelihood of a more natural-feeling knee after surgery.
1st ROBOTIC ASSISTED PARTIAL KNEE REPLACEMENT IN THE NORTH OF ENGLAND
Video Testimonials
You will need the Adobe Reader to view and print these documents.